Pro Membership
Free
Pro
Mobile app access
Limited web access

Full web access

Ad-free access

Payment charts

Payment reminders

APR comparisons

Priority support
2 Month Pro Membership

$5

/mo

6 Month Pro Membership

$3

/mo

24 Month Pro Membership

$1

/mo
+ Memberships do not automatically renew. You will not be charged at the end of your membership term unless you visit the website and complete the upgrade process again.
++
All payments securely processed by
stripe
. Using stripe means your payment information is never visible to or stored by Debt Payoff Planner.
Debts
Welcome to Debt Payoff Planner
Step 1: Add your first debt by clicking on in the top right
Step 2: Input information under

DEBT DETAILS

and click
Step 3: Repeat for each debt
Step 4: Follow the steps in the

Payoff Plan
Strategy
---
---
One-time payment (snowflake):
Payoff Summary
| | |
| --- | --- |
| Current balance | |
| Starting balance | |
| Monthly payment | |
| First month interest | |
| Debt free on | |
| Total of payments | |
| Total interest | |
Getting Started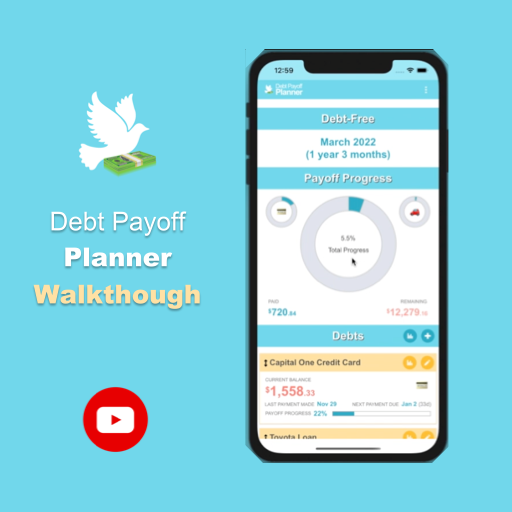 Pro Membership
Congratulations on your commitment to becoming debt-free. Debt Payoff Planner on the web with a pro membership gives you additional tools to strengthen your commitment and maximize your debt payoff plan.
Ad-free
Payment reminders
Print your plan
Web browser access
Additional charts
Priority support
APR comparisons for credit cards
Log in on the web for upgrade details
www.stebt.com
Payments Unmanageable?
If you have more than $10k in credit card debt, you qualify for a free debt relief quote and consultation.
Legal Disclaimer:
While we at OxbowSoft LLC strive to make the information contained in Debt Payoff Planner as timely and accurate as possible, we make no claim, promise, or guarantee about the accuracy, completeness, or adequacy of the contents of this application, and expressly disclaim liability for any errors and/or omissions that may exist in Debt Payoff Planner. Your continued use or access of this application shall be your acceptance of this legal disclaimer, the
Terms of Service
, and the
Privacy Policy
.
Advertising Disclosure:
We are not affiliated with the companies mentioned in this application but we may receive advertising commissions in some cases.